Specializing in Ship Spares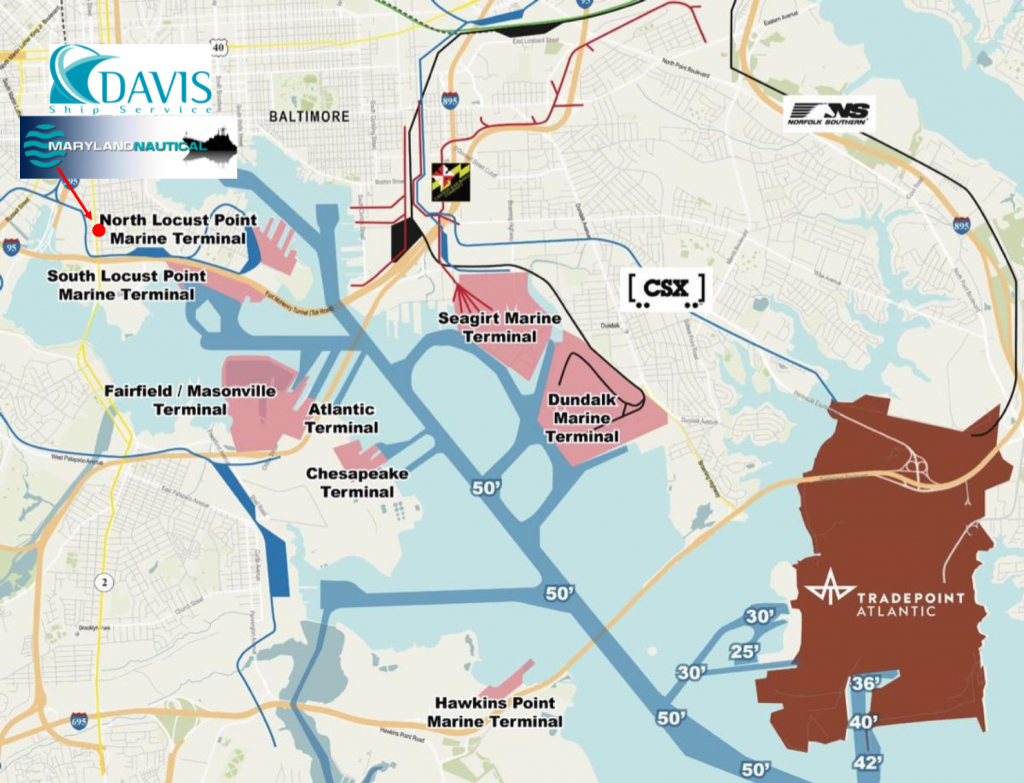 Davis Ship Service is centrally located in the Port of Baltimore serving as a hub for incoming and outgoing ship spares.  Whether they are needed on board for supplies or urgent repairs.  We handle the Customs clearance and reshipping of landed spares as well. We continuously track shipments and vessel arrival/departures to date to ensure a timely delivery to the vessel. We have 3,000 Sq. Ft. of warehouse space for storage, two forklifts, stake body truck, cube truck and three cargo vans. We are capable of palletizing, banding and crating on site. Our drivers are DOT Compliant and HazMat Certified. We possess a bonded Cartman's License, registered with the Federal Motor Carrier and are bonded and insured.   We are in close proximity to Baltimore/Washington International Airport (BWI 1305) which is our airport of choice for importing and exporting. We have the ability to handle shipments at Dulles, Newark, JFK and Philadelphia Airports.
• DO NOT COMBINE SHIPMENTS FOR MULTIPLE VESSELS • WE WILL NOT SEPARATE SHIPMENTS •
• WE DO NOT OPEN PACKAGES •  WE ARE NOT RESPONSIBLE FOR CONTENTS OF SHIPMENTS/PIECE COUNT ONLY•
SHIP SPARE INFORMATION:
All shipments should be consigned as follows:
M/V [Vessel Name]
[Local Agent]
c/o Davis Ship Service
1400 E. Clement St.
Baltimore MD 21230
POC: Theresa Abel
Tel: 410-625-2672
Email: [email protected]
Closest Airport: BWI ( Baltimore Washington International Thurgood Marshall Airport)

Must supply Master AWB and Commercial Invoice with a value for customs.

Spares should arrive 3-5 days prior to vessel's arrival, also take weekends and holidays into consideration.

All spares should be clearly marked with the vessel's name.

Deliveries made in the evening, weekends and holidays will be assessed over-time rates.

Spares stored at our facility for any length of time will accrue storage fees and are charged by pieces, weight and size.

A logistic fee will be charged per invoice to cover vessel/spare tracking, documentation, email monitoring, etc.
We Ship Worldwide!